There are endless breathtaking works of art that capture the ocean, both above and below the water.  This art gives us a glimpse into what animals and plants live there and how they interact.  From whales and dolphins to coral reefs and sea turtles, the subjects are as vast as they are beautiful.  While most of these gorgeous works of art are produced on land, some are actually completed from start to finish, underwater.  
We'll take a deep dive into the art that can be, and often is, created beneath the surface.
Painting
Olga Nikitina 
Originally from Russia, Olga Nikitina became a scuba dive instructor and moved to Egypt.  While the Egyptian desert may be regarded as mundane for many artists considering the land is filled with muted shades, the Red Sea and its inhabitants are quite the opposite.  Olga, also a painter, found herself trying to capture the beauty and wonder of what she had seen after her diving excursions.  She realized that she couldn't quite convey what she wanted to show in her art when the subject wasn't physically in front of her.  She began taking slow exposure photographs of the wildlife she encountered.  While this was an improvement, it didn't quite scratch the itch in the way she was expecting.  
She determined the only way she could accurately portray what she sees is "through her soul – through her painting," while underwater.  Olga drew inspiration from Andre Laban, the "father of underwater painting."  Using a special cover for the canvas and specific paint that is not toxic to the ocean, this became possible.  With this newfound ability she was able to fulfill her dreams.  Olga now paints at different depths of the ocean and in her local diving center.  Her painting sessions vary from thirty minutes to two hours in length.  She is able to accurately capture every detail and the precise colors of her immersive scenes.  The final pieces are exceptional and bring another level of depth to the eye of the viewer.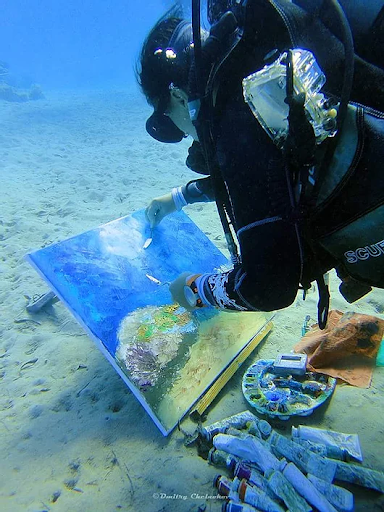 Olga Nikitina painting underwater.  Via olganikitinart.com.
Hussain Ihfal
Artist Hussain Ihfal was also inspired by Andre Laban's works and is part of the small underwater painting community.  Choosing the Maldives as his ideal location, he created seven paintings in seven areas of the Vaavu Atoll.  This collection was an exhibition at the National Art Gallery.  Hussain has a fixed 45 minute window to paint during his dives, and approaches his work in an abstract style.  He also shares that the waves and movement of the ocean can make each brushstroke take longer than on land.
Hussain has chosen the art of underwater painting to bring more awareness to conservation efforts to protect environments around the world.  He hopes that people will see his works and become more interested in global warming and what can be done to prevent it.  His art is specific to the Maldives, as the sea level continues to rise at a concerning rate.  Hussain is using his voice and his brush to do what he can to save the oceans and the planet.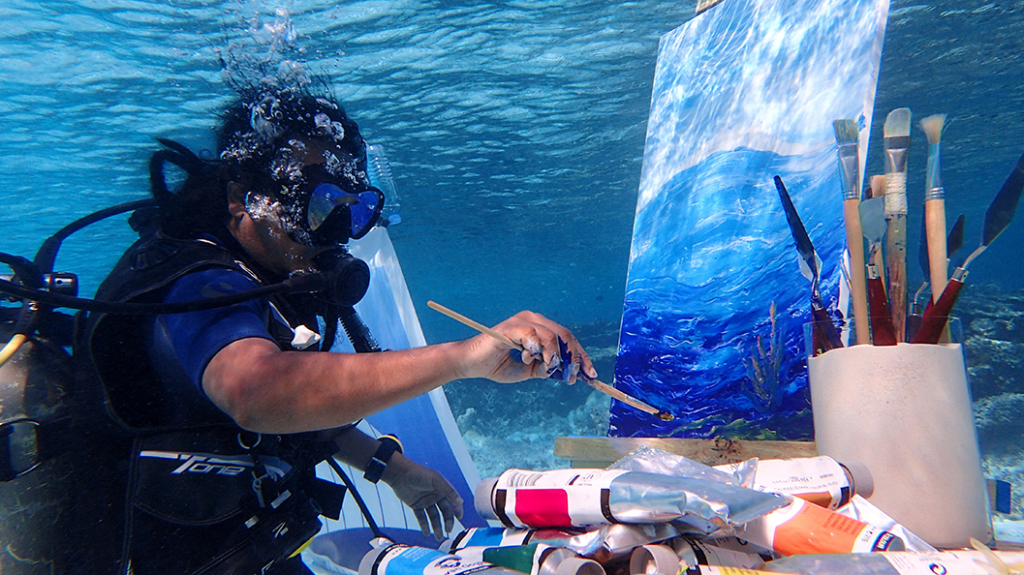 Hussain Ihfal painting underwater. Via blog.padi.com.
Music
Lang Lang
Classical pianist, Lang Lang, performs in orchestras all over the world.  He is considered to be one of the most accomplished classical musicians in modern times.  In 2016, he performed at quite the unique venue: the shark tunnel at the L'Oceanogràfic oceanarium in Valencia, Spain.  Surrounded by an arc of water, he greets his special audience of sharks, stingrays, fish (and a few lucky humans).  A Steinway grand piano is positioned on the walkway, awaiting his arrival.  As he sits and begins to play, it appears that the wildlife can hear him.  Some hover over and next to him as though to stop and listen.  The notes reverberate through the glass and along the tunnel.  Lang is able to take in his wondrous surroundings as he plays.  Although he is not "in" the water, it's as close as a pianist can get to performing their art under the sea.
Photography
Thomas P. Peschak
Thomas P. Peschak is impressively a marine biologist, conservation storyteller and an ocean photographer.  He began his career as a marine biologist initially.  When he realized photographs would have a more profound impact on conservation than statistics, he seized the opportunity.  His work for National Geographic has allowed him to travel the world to capture and share nature through his art. His documentation of a vast variety of wildlife is both stunning and moving.  Thomas showcases the magnificent beauty and devastating fragility of these environments.  Thomas is deeply invested in the conservation of our oceans, islands, and coasts and is involved in several organizations making a difference.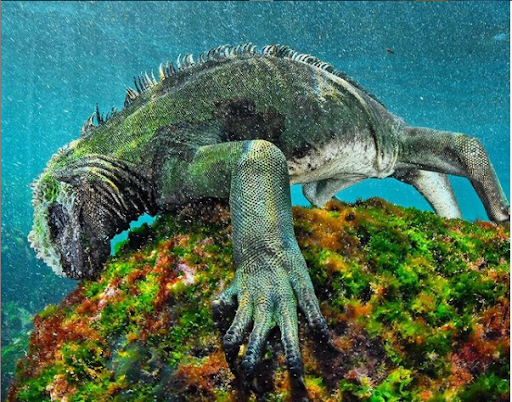 Photo via Instagram @thomaspeschak.
Ping Fan
Underwater photographer, Ping Fan, is known for his particularly artistic images.  He merges elements of nature found in the ocean with those that typically are not.  For instance, he has a series of "one breath" photos that feature a woman with an instrument in sea kelp and then floating holding a ping pong paddle.  He frequently features scuba divers in his photos, particularly in his caves photos, where additional lighting is needed to illuminate what is naturally hidden. Ping has a keen eye for incorporating natural sunlight in his stills to spotlight his subjects.  He hopes to encourage conservation through his art and to motivate conservation of the planet.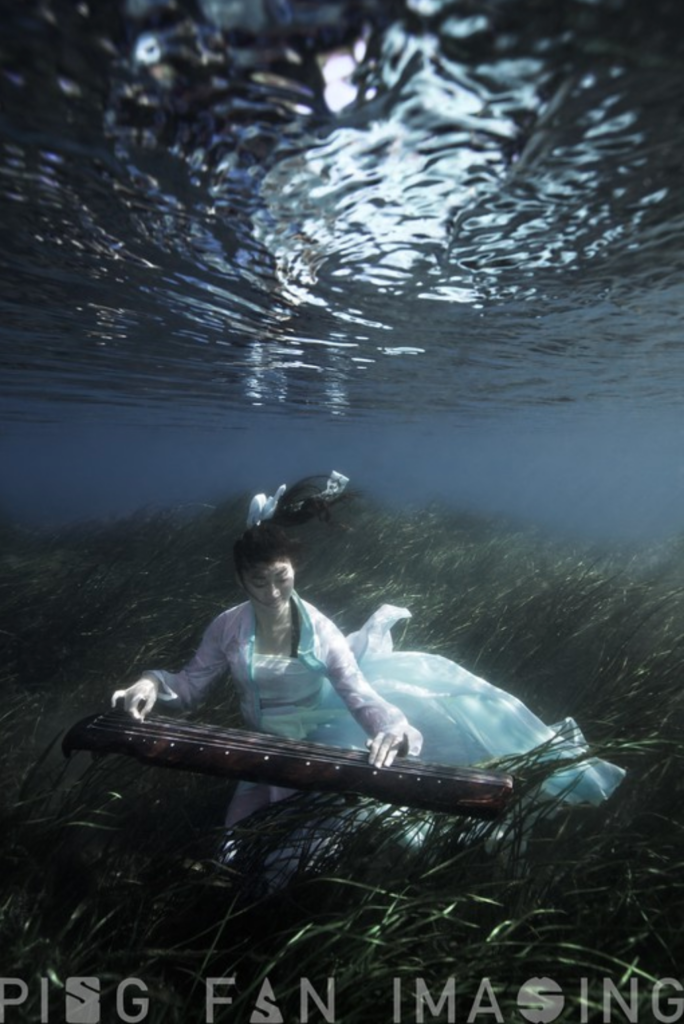 Photo by https://www.pingfanimaging.com/
Elena Kalis
Based in the Bahamas, Elena Kalis captures extraordinary underwater photos that incorporate humans and nature.  Her mostly bright and brilliant pieces feature manatees, stingrays and coral reefs intertwined with female subjects.  Elena also captures playful, nostalgic photos underwater in a pool, some of which include an Alice in Wonderland theme.  She supports the work of the Bahamas National Trust which works to conserve the ocean, tidal zones, and coastal land, many of which she has photographed.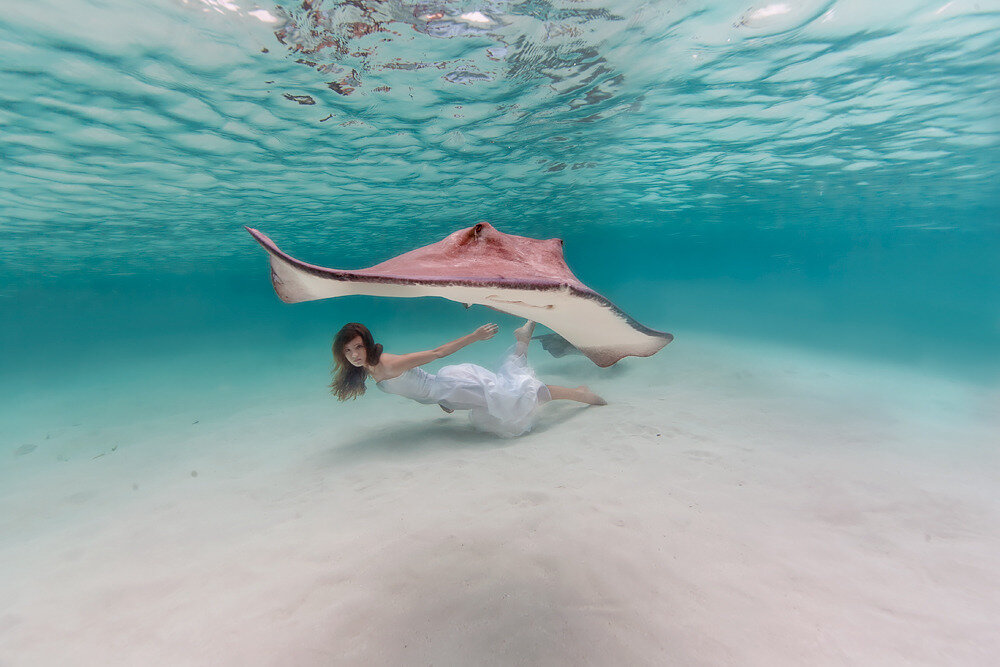 Photo via https://www.elenakalisphoto.com/ 
These artists help us better understand what lies beneath 70% of the Earth's surface.  Their spectacular art in many forms brings to light wonderful parts of nature that we may otherwise never see.  They also remind us of the special relationship and responsibility that we have with nature, both in the water and on land.  Astounding beauty is found even in hard-to-reach and rarely seen spaces.