Works of art can be found just about anywhere if we take a moment to look.  We come across natural beauty in our daily lives: clouds in the sky, blooming flowers, or the colors of the sunset reflecting on a snowcapped mountain.  Or in ordinary objects that someone took time to enhance, such as murals or paintings.  Then there are artists who can take something ordinary and make it extraordinary.  They can take objects most of us wouldn't give a second thought and transform them into works of art.
The following artists have chosen edible mediums to create art that is almost too beautiful to eat.  From coffee, to desserts, to snack time, and everything in between, these artists heighten all of our senses!  Let's dig in together as we feast our eyes on these masterpieces.
Sarah Gonzalez
A mother of six, Sarah Gonzalez, became a food artist out of necessity.  With a few picky eaters in her family, she needed a way to entice her children to eat healthier foods.  As many parents are all too familiar with this predicament, she devised a plan.  She made playful, colorful scenes with food to excite her kids into eating them.  Taking inspiration from famous characters, she constructed Toy Story's Woody, Star Wars' Chewbacca, and Disney's Pluto. Animals became instant favorites, including a peacock, sloth, swan, bear, octopus, and even a magical unicorn that made appearances.  Filled with all colors of the rainbow and fun shapes and designs, the meals were quickly devoured.  Fruits, vegetables, and other healthy foods are now meal staples, thanks to Sarah's creative incorporation of art.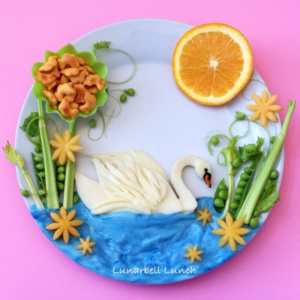 An exquisite mozzarella cheese swan. Via Instagram @lunarbell_lunch.
Liz Joy
Baker and 'Sugar Artist' Liz Joy creates some of the most imaginatively detailed and whimsical desserts.  Her 'narrative pies' feature scenes from books and movies such as The Little Mermaid and A League of Their Own.  Although she has a background in art, she is entirely self-taught when it comes to baking.  Her pies take several days to complete from conception, through baking, decorating, and finishing touches.  Her masterpieces don't end with pies-they also include cookies and cupcakes, where she excels in creating articles of clothing.  From wedding dresses to socks, shoes, and purses, there are never-ending design possibilities with her desserts.  While some may be hesitant to cut a slice of pie out of their prized creations, Liz is happy to indulge once photos have been captured.  Her realistic and life-like designs have truly elevated desserts to works of art.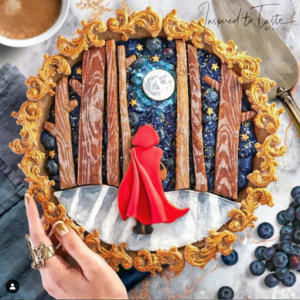 Little Red Riding Hood. Via Instagram @inspiredtotaste.
Lee Kang-Bin
South Korean barista and latte art master Lee Kang-Bin is renowned worldwide for his almost unbelievable designs.  He recreates famous works of art including The Starry Night, The Scream, and the Mona Lisa in your morning coffee.  Utilizing cream, food coloring, spoons, and perfectly placed brushstrokes, his pieces take shape before your eyes.  His designs have expanded to include characters such as Beauty and the Beast and Pikachu and a variety of animals.  He has received an overwhelmingly positive online response to his "Cream Art" as he describes them. Although he has no formal training, he began making coffee at the age of seventeen, and now teaches latte art courses.  Lee's colorful cups of coffee bring joy to all who sip them and admire them from afar.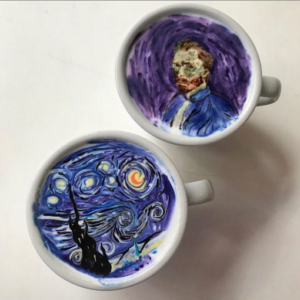 Vincent van Gogh's The Starry Night and Self Portrait.  Via Instagram @leekangbin91.
Stephan Brusche
"I draw on bananas" states Stephan Brusche's Instagram account, and that is precisely what he does.  His first "fruitdoodle" as he calls them, consisted of a simple happy face drawn on his leftover banana from lunch.  From that moment, his imagination has run wild with endless possibilities of what art can be created with a banana.  Although he throws in the occasional orange, head of broccoli, or pear, he remains steadfast to his initial chosen medium.  He creates his own drawings but also recreates famous pieces of art, characters from movies and television, and animals.  A former graphic designer, his expertise brings this unusual and unexpected art form to life.  His designs vary in intricacy and have expanded to include carving and sometimes multiple pieces of fruits and vegetables.  He has amassed quite the following, bringing the happy color of banana yellow to all of his fans.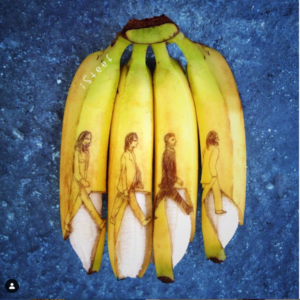 The Beatles' Abbey Road.  Via Instagram @isteef.
These food artists have taken food and drinks and created unexpectedly phenomenal pieces of art.  Although these gems only last for a few minutes, hours, or days in their finished states, they are remarkable, nonetheless.  This enjoyably consumable art shows us that "art" can be created out of the most ordinary, everyday objects.  Inspiration is everywhere, including on your plate or in your cup!