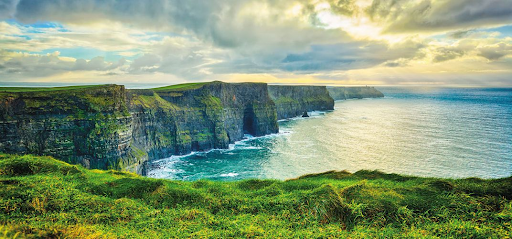 Ireland, commonly referred to as the Emerald Isle, has shared a great many things with the world.  From its food and drink, to its idyllic green landscapes and castles, it is a destination for many travelers.  The arrival of March 17th marks the celebration of Saint Patrick's Day, Ireland's patron saint, each year.  Many countries celebrate the holiday which is typically evident by the color green, festivals, and parades.
To commemorate Saint Patrick's Day this year, we are highlighting some of Ireland's greatest contributions to the arts.  Their indelible marks are visible throughout history and have influenced and laid the groundwork for those to come.  The following includes a shortlist of artists that are synonymous with Ireland and embody all the beauty she offers.
Writers
William Butler Yeats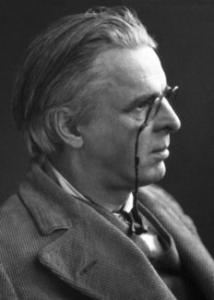 A foremost figure of 20th century literature, W.B. Yeats was born in Sandymount in 1865.  Yeats was a poet, prose-writer and dramatist, and wrote his first works at the age of seventeen.  He was a Symbolist poet, using allusive imagery and symbolic structures to suggest abstract thoughts.  In 1890 he co-founded the Rhymers' Club, a group of London-based poets who would meet regularly to recite their prose.  Nine years later, he would also co-found the Irish Literary Theatre with the purpose of presenting Irish plays, which lasted for two years.  In 1904, he was part of the group that opened the Abbey Theatre, with his play Cathleen ni Houlihan performed opening night. 
Yeats also assisted in the creation of the Dun Emer Press (later the Cuala Press).  The Cuala Press inspired the Arts and Crafts Movement in Ireland which inspired people to "make beautiful things."  To add to his list of accomplishments, he became a Nobel Prize winner in Literature recipient in 1923. He won for his "always inspired poetry, which in a highly artistic form gives expression to the spirit of a whole nation."  Yeats was also appointed to the first Irish Senate in 1922 and later re-appointed for a second term.
James Joyce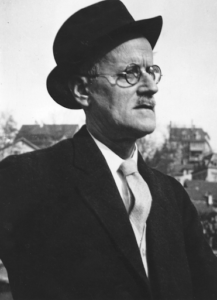 James Joyce is known as one of the most influential writers of the 20th century.  Born in Dublin in 1882, he was a novelist, poet, teacher, literary critic, and short story writer.  His contribution to the avant-garde Modernist movement was profound.   His greatest literary work was Ulysses, in which he paralleled Homer's Odyssey in a multitude of literary styles.  The most notable of the styles was stream of consciousness.  Although he spent much of his life outside of Ireland, his fictional works center around Dublin and his characters closely resemble people in his life.  His works influenced many writers and scholars that followed him.  The city of Dublin celebrates his life and works each year annually on June 16th, known as Bloomsday.  
Musicians
U2
One of the most renowned rock bands in the world, U2, was born in Dublin in 1976.  Led by lead vocalist Bono, members The Edge, Adam Clayton, and Larry Mullen, Jr. round out the group.  Originally called 'Feedback' and later 'The Hype,' the band came together when they were teenagers still in school.  By 1983, they already had their first UK number one album with War.  As they gained popularity worldwide, their Live Aid performance cemented their place on the world stage.  Two short years later, their Joshua Tree album catapulted them to superstars.  Their singles 'With or Without You' and 'I Still Haven't Found What I'm Looking For' topped the global charts.
Their success continues to this day, with a record 22 Grammy Awards under their belt, more than any other band.  They've completed multiple world tours, with the 360° Tour becoming the highest-grossing group tour of all time.  Throughout their history, U2 has also taken an active role in philanthropy, championing causes in Ireland and other countries around the world.  Most recently, they've donated money to provide Irish healthcare workers with PPE in addition to a donation to help those in the music industry during the pandemic.
Van Morrison
Born in Belfast in 1945, Van Morrison is a Grammy-winning singer-songwriter, instrumentalist, and record producer.  Before his well-known solo career took off, he started out as a teenager at age 13 playing multiple instruments in several Irish showbands.  He proceeded to gain popularity as the lead singer of the R&B and rock band 'Them' in the 60's.  Then, in 1967, the release of his hit pop song 'Brown Eyed Girl' launched his solo career.  Van has many notable musical influences throughout his albums, including blues, country, gospel, soul, jazz improvisation, and Celtic invocation.  
True to his showband beginnings, he brings magic to each and every one of his live performances.  His albums vary widely over the decades and feature collaborations with artists from Ireland and other countries.  Still advancing and evolving today, he is a stand-out recording and performance artist of both the 20th and 21st centuries.      
Artists
Sir John Lavery
Best known for his wartime depictions and portraits, John Lavery was born in North Belfast in 1856. He spent much of his early life in Scotland, where he was commissioned to paint Queen Victoria during her state visit to Glasgow.  This commission propelled his career as a society painter.  In 1896 he was hired to paint Mary Burrell which was exhibited extensively and considered one of his finest works.  Later, he was appointed an official artist of the First World War, but his ill health prevented him from reaching the Western Front. During this time, he painted airplanes, boats, and idyllic pictures.  Lavery also participated in the art competitions in the 1924, 1928, and 1932 Summer Olympics.  His wife, Hazel, modeled as the allegorical figure of Ireland, which he painted.  This portrait appeared on banknotes for nearly fifty years.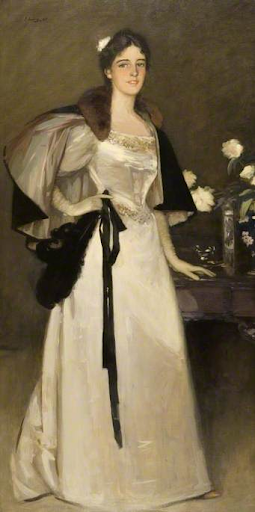 Miss Mary Burrell. Via artuk.org.
Paul Henry
With his post-impressionist style, Paul Henry is known for his depictions of the western Ireland landscape.  Born in Belfast in 1876, he began drawing at the young age of six.  He lived on Achill Island in Ireland for nine years, where he mastered the interplay of light and landscape.  Then, Henry moved to Dublin and was one of the founding members of the Society of Dublin painters, a group of ten artists.  Here he designed railway posters that garnered him significant sales.  For two decades, Henry was Ireland's best known artist and influenced the image that is recognized as the west of Ireland.  His red-green color blindness affected his color choice and use.  Although his range was limited, he cultivated a substantial body of work with its own distinguishable familiarity.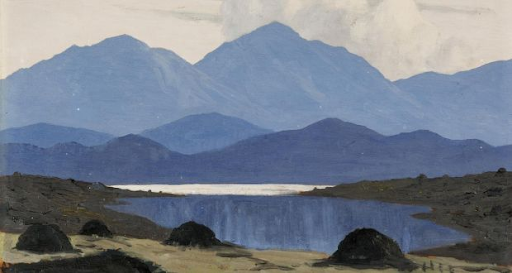 In the Western Mountains.  Via irishtimes.com.