With a career spanning just over two decades, Zoe Saldana has starred in three of the five highest-grossing films of all time. She has portrayed strong female characters in many of her over fifty film and television credits. As a proponent of diversity, inclusivity, and equality, she advocates for them both on and off the screen. Let's explore how the multi-talented bilingual actress found success and rose to fame.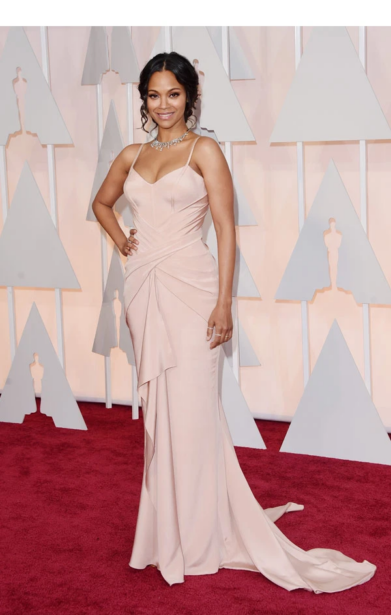 Zoe Saldana at the Oscars. Via hollywoodlife.com
Early Life
Born in New Jersey, Zoe Saldana spent the majority of her early childhood in New York. The daughter of a Puerto Rican mother and Dominican father, she was raised to be bilingual in English and Spanish. When her father died in a vehicle accident, her mother moved her and her two sisters to the Dominican Republic. Once there, her mother enrolled her in dance lessons, which ultimately charted the course of her life. She continued taking dance lessons and found her passion in ballet. Although she knew she would not become a professional dancer, she took lessons until she moved back to New York at the age of seventeen.
Zoe joined youth theatre groups when she returned, opening the door to performances outside of dance. As parts of the Faces theatre group, they focused on sharing positive messages while dealing with difficult issues for teens. She was also part of the New York Youth Theater, where she performed in their production of Joseph and the Amazing Technicolor Dreamcoat. It was due to this performance that a talent agency recruited her and she began her journey as an artist. In 2000 she landed her first film role as ballet student Eva Rodriguez in Center Stage. She was able to use her extensive dance training and technique to effortlessly embody her character.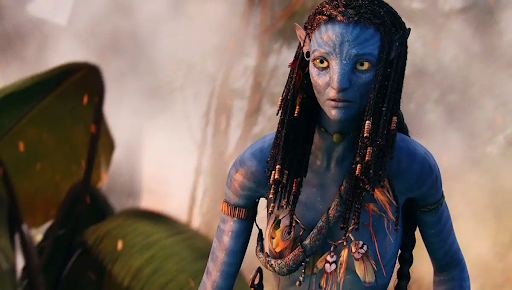 Zoe Saldana as Neytiri in Avatar. Via usmagazine.com
Rise to Success
Her outstanding performance in Center Stage led her to land several additional roles in the early 2000's. These included Crossroads with Britney Spears, Drumline with Nick Cannon, and Pirates of the Caribbean: The Curse of the Black Pearl. In 2004, she played an immigration officer and Star Trek fan alongside Tom Hanks in The Terminal. This proved to be a stepping stone in securing her role as Nyota Uhura in the 2009 Star Trek film based on the television series. The film was a huge success and assisted in Zoe achieving more widespread notoriety.
The same year, she starred in Avatar as Neytiri, a computer-generated character created using Saldana's motion-captured performance. Avatar became the highest-grossing movie of all time, with people around the world seeing her on screen. The combination of these two standout roles catapulted her to a household name. In 2014, she landed her most recent well-known role as Gamora in the blockbuster Guardians of the Galaxy. Saldana is quite literally the queen of science fiction movies, with huge roles in three different franchises. She has starred in sequels for both Star Trek and Guardians of the Galaxy, with Avatar sequels currently in the works. Her outstanding body of work has garnered her several awards and numerous nominations for different projects. She also received her star on the Hollywood Walk of Fame in 2018.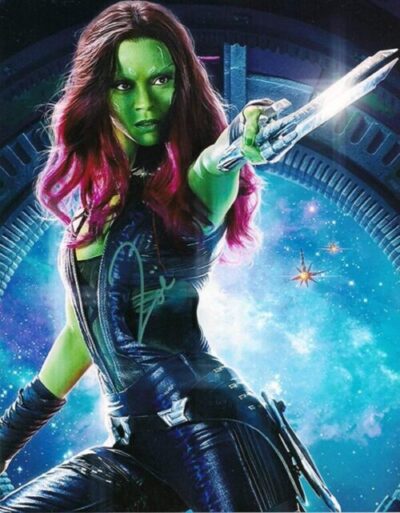 Zoe Saldana as Gamora in Guardians of the Galaxy. Via pinterest.com
BESE
After cementing her place as an artist, Saldana wanted to use her voice and reach to make a difference. She founded and launched digital news platform BESE in 2018 to empower Latinos. As a firm believer in the power and influence of role models, she wanted to shine a light on Hispanic stories and talent.  Although Latinos are the fastest-growing ethnic population, they are severely underrepresented in the media. Roles for actors in both film and television are rare, as are roles for those behind the scenes.
Saldana's vision is to encourage the evolution of mainstream media to more accurately reflect the current population. In her words, BESE is "about inclusivity and telling stories that can inspire people." BESE also highlights figures, both past and present, that have made outstanding contributions although they are lesser-known. Now in its third year, BESE has a plethora of videos and articles available to absorb. They cover a variety of topics, featuring sections dedicated to identity and culture. Their content is shared across social media with the aim to extensively reach younger generations. As they continue to grow, BESE will expand to include additional cultural groups.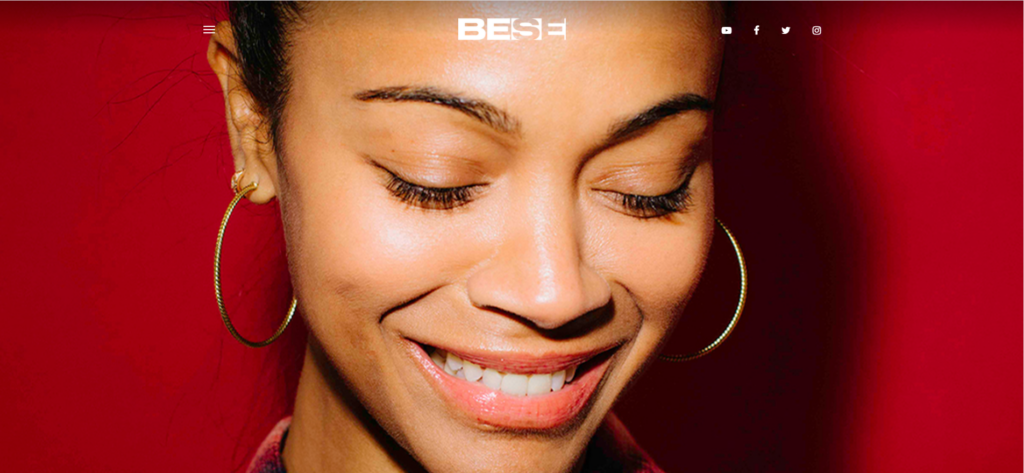 Zoe Saldana featured on BESE. Via bese.com
Zoe Saldana is one of the most well-known actors, let alone Afro-Latina actors of all time. She has achieved immense success and is helping to pave the way for others to follow in her footsteps. Her involvement in performing arts as a young adult gave her the opportunities and skills needed to realize her dreams.