Artist Feature: Awkwafina

Over the past several years, there has been a reckoning in Hollywood over the lack of diversity in film and television. At first, the criticism was met with denial, then appeasement, and finally, acceptance. Hollywood has heard the concerns, data, and collective voices, and many studios have vowed to create content that is representative of our country's reality when it comes to ethnic and gender diversity.
During this period of transition, many actors of color have had the opportunity to come into the forefront and truly shine. In what is the dawning of a new era, artists such as Awkwafina have been able to launch their careers. Were it not for this push for inclusion and diversity, the world could have missed out on this immensely bright talent.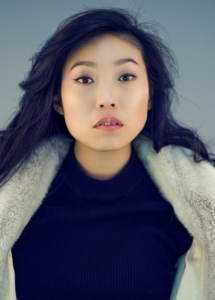 Photo by Casi Moss.
Awkwafina's journey and breakthrough into the entertainment industry took a strong support system and incredible perseverance. The child of immigrants, Awkwafina pulled from her family's strength to chase, and eventually realize, her dreams. 
Let's take a look at how "Nora from Queens" became Awkwafina, one of the most recognizable Asian American actors today.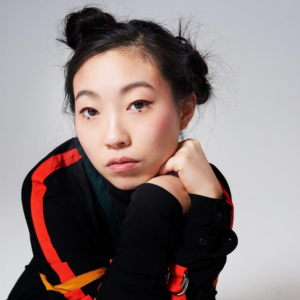 Via Pinterest.
The Unconditional Love of a Matriarch
Born Nora Lum in Stony Brook, New York, Awkwafina grew up surrounded by traditional family values. Her mother, who immigrated from Korea in her youth, and her father, the son of Chinese immigrants, formed a strong immigrant identity throughout her childhood. Her paternal great-grandfather came to the United States in the 1940's, opening one of the very first Chinese food restaurants in New York. The restaurant, called Lum's, was later passed down to her grandmother, the matriarch of the family. Awkwafina's mother died when she was just four years old, and her grandmother immediately stepped in to become her rock. She considered her grandmother to be her best friend and a constant source of support and encouragement. Awkwafina credits her grandmother for instilling in her a strong sense of self-worth. It was also her grandmother that reminded her that the things other kids found "weird," such as her raspy voice and tomboy attitude, were what made her lovable and unique.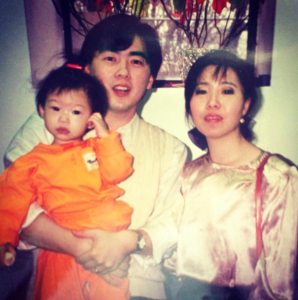 Awkwafina with her parents, Wally and Tia, shortly before Tia's passing. Via Instagram.
The Freedom to be Herself
Losing her mother at such a young age had a profound effect on Awkwafina's life. She recalls being resentful that her relatives would dissolve into tears whenever they saw her. Awkwafina didn't want to be a source of sorrow and grief, so she decided to become a source of comedy and joy instead. Throughout her journey, her grandmother was both her biggest supporter and her sidekick who would laugh at all her jokes. Awkwafina drew inspiration from her grandmother's strength and her choice to deviate from traditional roles and stereotypes. Her grandmother was not docile or submissive; she was the headstrong and confident matriarch of the family. Awkwafina took notes and cues from her; she worked hard in school while also exploring her artistic side. Awkwafina played the trumpet and trained in both classical and jazz styles at LaGuardia High School of Performing Arts. At the same time, she began to rap and write her own music, as she was not content with conforming to what society expected of her. Awkwafina's grandmother gave her the freedom and support to be herself in order to become whoever she wanted to be.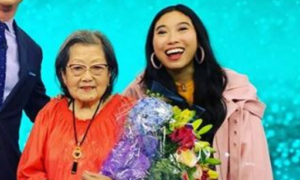 Awkwafina with her grandmother. Via Today.com.
The Birth of Awkwafina
When she was fifteen, as a joke, Nora Lum called herself "Aquafina" while poking fun at the names of consumer products. Despite it starting as a silly quip, her friends continued calling her "Aquafina" and she decided to embrace it as her stage name. It later transitioned into "Awkwafina" when she noted that it looked similar to the word "awkward," a personality trait that she identified with. In college, when she attempted to quell her rambunctious personality, she noticed that Awkwafina was her inner self coming through. This alter-ego was the artistic, jovial side of Lum that loved to make people laugh. While studying journalism and women's studies at the University of Albany, Awkwafina continued to write and rap in her downtime. During the height of viral YouTube videos, Awkwafina had begun to make a name for herself. By combining her talents for comedy and rap, her well-produced music videos began to draw viewers in by the millions. These viral videos helped Awkwafina break into the music scene, and over the next five years, she released her first studio album as well as several singles.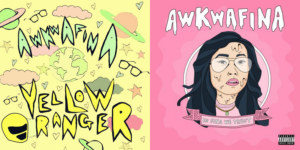 Awkwafina's two studio albums: Yellow Ranger and In Fina We Trust. Via The Peak.
Fame and Cultural Identity 
As a child, Awkwafina recalls seeing negative and stereotypical portrayals of Asian people in both film and television. She experienced first-hand how those portrayals informed the way people thought of and treated Asian Americans. In the schoolyard, she was mocked and teased with fake accents, making her doubt the pride she felt in her cultural identity. When she saw Lucy Liu starring in one of Hollywood's biggest blockbusters, Charlie's Angels, Liu immediately became her idol. Watching an Asian American woman fighting bad guys on the big screen, the then 12-year-old Awkwafina felt empowered and emboldened. 
Though they were scarce, Awkwafina held on to any positive portrayals of Asian Americans and used them as sources of inspiration. In her adult life, she leaned into her identity, hoping to inspire self-love in younger Asian Americans. After making a splash with her comedic YouTube raps, Awkwafina released her debut album Yellow Ranger. The album is named after Trini Kwan, the female Asian American character from the popular kid's television show Mighty Morphin Power Rangers. As her career took off, Awkwafina continued to embrace her cultural identity, and with her comedic wit, used her music to poke fun at and challenge Asian stereotypes.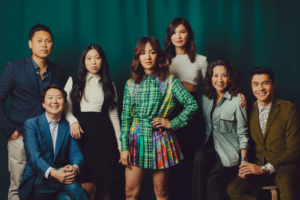 Crazy Rich Asians was the first major studio film with a predominantly Asian cast since 1993's Joy Luck Club. Via The New York Times.
Breaking into the Acting Scene
Awkwafina landed her first major film role thanks to her viral YouTube music videos. Olivia Milch, the director of the Netflix coming-of-age dramedy, Dude, cast her after watching them. Shortly after, she was then cast in the blockbuster film Ocean's 8, joining an outstanding all-female central cast, alongside Cate Blanchett, Sandra Bullock, and Rihanna. In 2018, Awkwafina joined the all-Asian cast of Crazy Rich Asians in the scene-stealing role of Peik Lin Goh. As the hilarious and charismatic best friend to Constance Wu's protagonist, Awkwafina turned heads. She was praised for her comedic timing, and the role cemented her as an actress to watch. That same year, Awkwafina hosted Saturday Night Live-only the second East Asian American female celebrity to do so-since her idol, Lucy Liu, in 2000.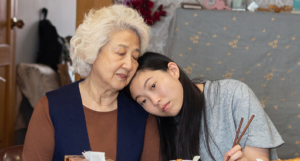 The Farewell explores how families keep things hidden to protect their loved ones from difficult truths. Via Reel Film.
Continued Success
After her comedic role in Crazy Rich Asians, Awkwafina opted to pursue something more dramatic and personal. In 2019, she starred in The Farewell which tells the real-life story of a Chinese American family who makes the decision not to tell their terminally ill grandmother that she only has a few months to live. Thanks to her own incredibly close relationship to her grandmother, Awkwafina connected deeply to the film's premise and themes. The Farewell also explores themes of cultural and generational differences, struggles that Awkwafina personally faced in her twenties when she lived and worked in China for a year. During her stay in China, she often felt like an outsider. She was looked down on for not speaking Mandarin fluently, yet couldn't land journalism jobs with companies that wanted an American perspective. Her role in The Farewell encouraged her to practice her Mandarin and reconnected her to her roots. Audiences fell in love with the moving story of a family united in their love for their grandmother, Nai Nai.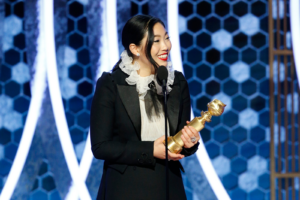 In 2020, Awkwafina became the first Asian American woman to win a Golden Globe Award for best actress in a film, winning in the musical or comedy category. Via the New York Times.
Awkwafina's first major dramatic role earned her critical acclaim. She was stunned when she won the Golden Globe Award for Best Actress in a Motion Picture-Musical or Comedy, the first woman of Asian descent to do so. That distinction alone reveals the disparity of lead roles available to people of color. In her newest show, in which she serves as writer, executive producer, and lead actor, Awkwafina plays herself, Nora Lum. Unlike her confident and bold alter ego, Nora is anxious and neurotic, and she stumbles as she tries to navigate adult life.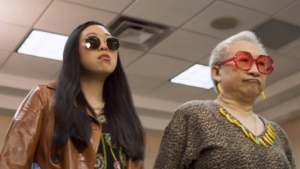 Awkwafina and her on-screen grandma, played by Lori Tan Chinn, in Awkwafina is Nora from Queens. Via Pinterest.
Awkwafina is Nora from Queens is a comedic reimagining of Awkwafina's life before stardom. From her struggles with unemployment, to the pressure to succeed and the hilarious bond she shares with her grandmother, Awkwafina doesn't hold anything back. In doing so, she opens a door into the life of an Asian American artist trying to make it out in the big world. Through her work on the small and big screens, Awkwafina hopes to inspire new generations in the same way she was inspired by the likes of Lucy Liu and Margaret Cho. As the fight for inclusion and diversity in Hollywood continues, Awkwafina is just one example of the brilliant talent ready to be discovered.