This article was a contribution from David Ornelas, born in Guadalajara, Mexico, having grown up in Southern California. He currently works as a Narrative Designer at Funktronic Labs in Pasadena California.
Many cultures from around the world prepare to welcome the changing of seasons throughout the year with festivals and celebrations. Dia de los Muertos (also known as the Day of the Dead) is one such holiday whose origins date back to pre-colonial times. In Aztec and other Nahua cultures, from which many of the modern-day Day of the Dead rituals originated, death signified the beginning of a journey. Part of that journey involves returning to the world of the living with joy and in celebration of life.
As a first-generation Mexican-American, I didn't grow up celebrating the Day of the Dead. After years of being far from our family and yearning to reconnect with our roots, my mom took it upon herself to build a Dia de los Muertos altar to her father. I never had the opportunity to meet my maternal grandfather, so I had no memories of him to reminisce about. Day of the Dead became a way for me to learn what kind of person he was and what he meant to my mother. Through participating in various Dia de los Muertos festivities, I also learned the deeper meaning behind the beautiful tradition of honoring the dead.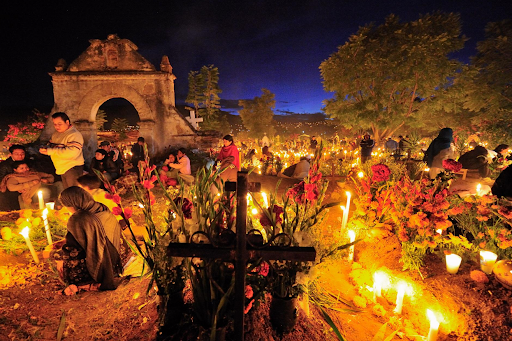 Powerful Symbolism
Dia de los Muertos has become more recognizable outside of Mexico in recent years, due in part to popular films such as The Book of Life and Disney's Coco. Some of the holiday's distinct features you may be familiar with are the sugar skulls, skeletal face painting, and colorful altars. Despite being able to identify these iconic features, the meanings behind them remain to be lesser known but are integral in understanding the culture and celebration as a whole. 
For example, the skeletons dressed in traditional clothing represent our dearly departed family members who return on this joyful day to dance, sing, and laugh with the family they left behind. The iconic Mexican marigold that is incorporated (also referred to as the flower of the dead) was a symbol of death in the Aztec culture that flourished in Mexico in the 14th century. On Dia de los Muertos, the strong-scented marigold petals are often scattered on the ground to attract and guide the dead back home. The colorful perforated paper that is hung and decorates Dia de los Muertos celebrations is made from a thin, delicate material, to remind us that life is both fragile and precious.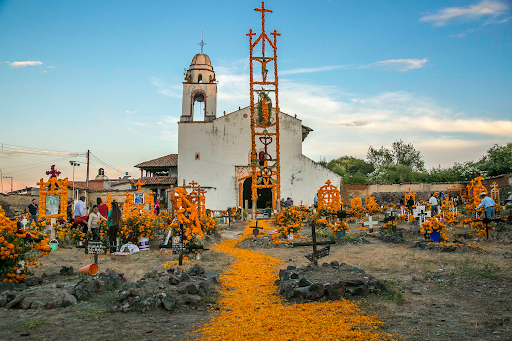 Artistic Expression
I've often heard people remark that Dia de los Muertos is a much more colorful, happy holiday in comparison to the similarly-timed Halloween. It's also undoubtedly less scary. Historians attribute this to the Nahua people's belief that death was natural, and that mourning the dead was considered to be disrespectful. That principle became the cornerstone of Dia de los Muertos. The colorful decorations and handmade crafts certainly make it easier for people to get into the spirit of celebration. This special day also offers the perfect opportunity for people to be creative and artistic.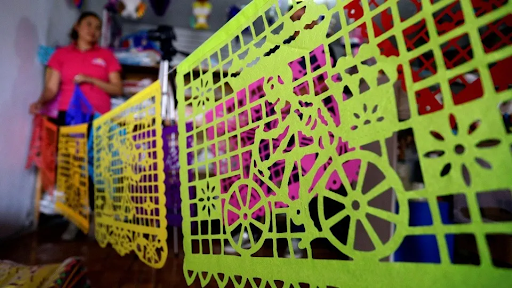 The aforementioned perforated paper, called papel picado, lines altars and streets with fun and symmetrical designs. Traditionally made with a chisel and hammer, people have learned to make the colorful creations at home with a handy pair of scissors.
The altars that are dedicated to our lost loved ones are a defining feature of Dia de los Muertos. People and families  spend hours lovingly decorating their altars with flowers, skeleton figurines, food offerings, and picture frames. Artisans are incredibly busy in the weeks leading up to the famous holiday, crafting ceramic skull decorations, plates, vases, and wooden towers that will be decorated with flowers. People also participate in the arts by writing literary calaveras – funny poems thoughtfully crafted to remember their loved ones with humorous anecdotes and jokes.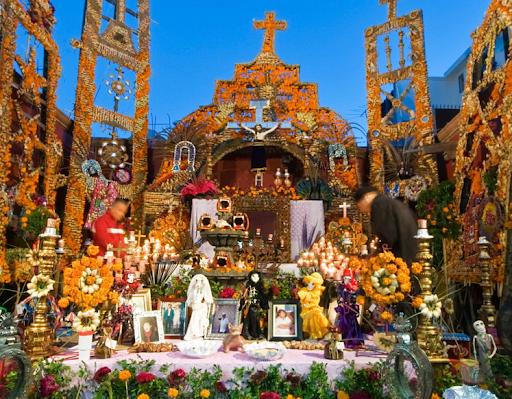 A Feast for the Senses
If you ever have the opportunity to visit a Dia de los Muertos celebration, you will be greeted by an array of sights and smells even before you enter. The first and most inviting is the fragrant aroma of the marigolds and the incense that is often burned on altars, both used to attract the souls of the dead. The ofrendas, or food offerings, create a delicious-looking display on the altars as well. When my mom decorated the altar for my grandfather, she chose his favorite foods that they once enjoyed together: pomegranates, chicken mole, and champurrado. The altars provide a respite for the traveling souls and the food is the sustenance they need to continue their long journey.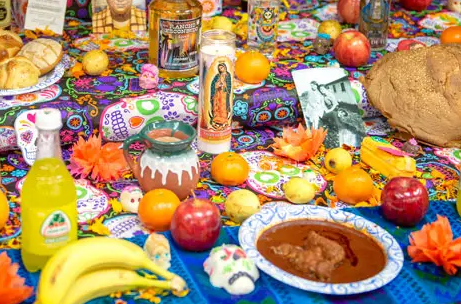 The warm smell of freshly-baked pan de muertos, in particular, is sure to attract those with a sweet tooth. Flavored with anise seeds and showered with sugar, the sweet bread is shaped like bones and skulls in keeping with the overall theme. The skull symbol is also used in candy skulls, molded candy typically made with cane sugar and decorated with colorful icing. In certain regions, chocolate variations of these sugar skulls have also become popular.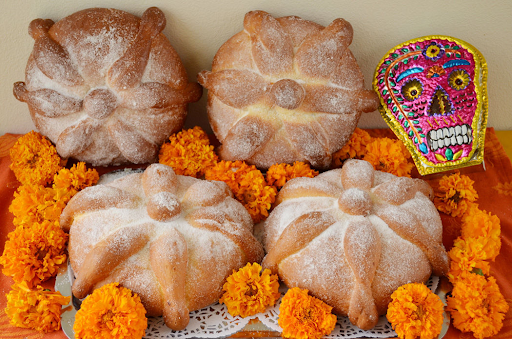 Regional Differences
As I learned more about the Dia de los Muertos traditions, I discovered the holiday's regional differences. In Janitzio, an island in the state of Michoacan, Dia de los Muertos celebrations last all night. A procession of boats carry candles across the water to the island's church and graveyard for a special vigil. In Xochimilco, near the nation's capital, the dark water canals are lit by floating gardens (chinampas) commemorating the dead. In the city of Ocotepec, the family of someone who has recently passed away opens their home for neighbors to join them in a meal of tamales and atole. In exchange, the guests offer the family a gift of veladoras, glass candles to be lit for the dearly departed. Discovering the unique variations and tributes of this famous holiday is a joy in and of itself.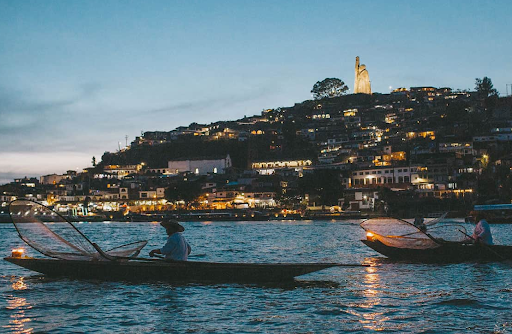 Keeping Tradition Alive
As I watched my mom place the food and drinks around a photograph of the grandfather I never met and heard her tell stories about him, I realized something important: d being gone for nearly four decades, my mother still carries those special memories with her. Dia de los Muertos is a day to fondly look back on the time she spent with my grandfather and share those memories with the grandchildren he never got to meet. It's important that I, too, pass on those precious memories and continue this beautiful tradition for generations to come.